Get out of your winter bunker and smell the fresh new books! Just take a deep breath. Come on, I won't tell anyone. I scoured the Interwebz to see what young adult books the community is most excited about and I bet these new book spines would look great next to color-coordinated flowers on your bookstagram.
The 18 Most Anticipated YA Books to Read in March 2017
1. STRANGE THE DREAMER by Laini Taylor

In the first book of a duology, Taylor again creates a complex and layered world of battling gods and humans. The tale begins 200 years after humans wiped out the powerful Mesarthim in a war so devastating that the city where it took place was said to have vanished and became known only as Weep. Lazlo Strange, an orphaned young librarian raised by monks, is obsessed with Weep and dreams of traveling across a dangerous desert to find it.

2. THE BONE WITCH by Rin Chupeco
When Tea accidentally resurrects her brother from the dead, she learns she is different from the other witches in her family. Her gift for necromancy means that she's a bone witch, a title that makes her feared and ostracized by her community. But Tea finds solace and guidance with an older, wiser bone witch, who takes Tea and her brother to another land for training.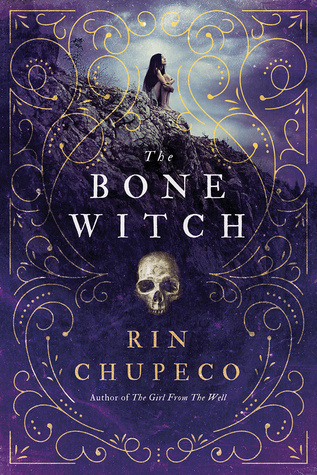 3. HUNTED by Meagan Spooner
Beauty knows the Beast's forest in her bones—and in her blood. After all, her father is the only hunter who's ever come close to discovering its secrets. So when her father loses his fortune and moves Yeva and her sisters out of their comfortable home among the aristocracy and back to the outskirts of town, Yeva is secretly relieved. Out in the wilderness, there's no pressure to make idle chatter with vapid baronessas…or to submit to marrying a wealthy gentleman. But Yeva's father's misfortune may have cost him his mind, and when he goes missing in the woods, Yeva sets her sights on one prey: the creature he'd been obsessively tracking just before his disappearance. The Beast.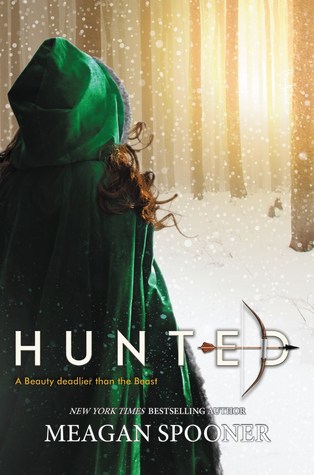 4. BLOOD ROSE REBELLION by Rosalyn Eves
Sixteen-year-old Anna Arden is barred from society by a defect of blood. Though her family is part of the Luminate, powerful users of magic, she is Barren, unable to perform the simplest spells. Anna would do anything to belong. But her fate takes another course when, after inadvertently breaking her sister's debutante spell—an important chance for a highborn young woman to show her prowess with magic—Anna finds herself exiled to her family's once powerful but now crumbling native Hungary.
5. THE INEXPLICABLE LOGIC OF MY LIFE by Benjamin Alire Sáenz
Sal used to know his place with his adoptive gay father, their loving Mexican-American family, and his best friend, Samantha. But it's senior year, and suddenly Sal is throwing punches, questioning everything, and realizing he no longer knows himself. If Sal's not who he thought he was, who is he?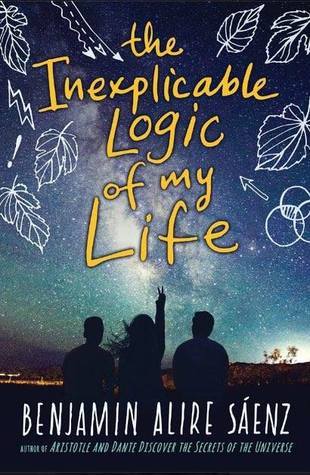 6. TRAITOR TO THE THRONE by Alwyn Hamilton
This is the sequel to Rebel of the Sands! Mere months ago, gunslinger Amani al'Hiza fled her dead-end hometown on the back of a mythical horse with the mysterious foreigner Jin, seeking only her own freedom. Now she's fighting to liberate the entire desert nation of Miraji from a bloodthirsty sultan who slew his own father to capture the throne.
7. A CROWN OF WISHES by Roshani Chokshi
This is the sequel to The Star-Touched Queen! Gauri, the princess of Bharata, has been taken as a prisoner of war by her kingdom's enemies. Faced with a future of exile and scorn, Gauri has nothing left to lose. Hope unexpectedly comes in the form of Vikram, the cunning prince of a neighboring land and her sworn enemy kingdom. Unsatisfied with becoming a mere puppet king, Vikram offers Gauri a chance to win back her kingdom in exchange for her battle prowess. Together, they'll have to set aside their differences and team up to win the Tournament of Wishes—a competition held in a mythical city where the Lord of Wealth promises a wish to the victor.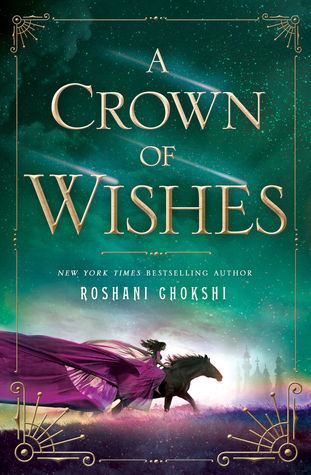 8. THE END OF OZ by Danielle Paige
In this high-octane fourth book in the New York Times bestselling Dorothy Must Die series, Amy Gumm must do everything in her power to save Kansas and make Oz a free land once more.
9. YOU'RE WELCOME, UNIVERSE by Whitney Gardner
When Julia finds a slur about her best friend scrawled across the back of the Kingston School for the Deaf, she covers it up with a beautiful (albeit illegal) graffiti mural. Her supposed best friend snitches, the principal expels her, and her two mothers set Julia up with a one-way ticket to a "mainstream" school in the suburbs, where she's treated like an outcast as the only deaf student. The last thing she has left is her art, and not even Banksy himself could convince her to give that up.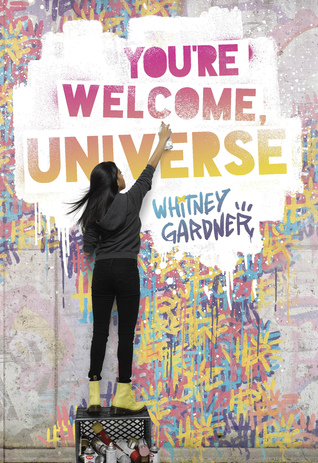 10. RADIO SILENCE by Alice Oseman

Frances Janvier spends most of her time studying. Everyone knows Aled Last as that quiet boy who gets straight As. You probably think that they are going to fall in love or something. Since he is a boy and she is a girl. They don't. They make a podcast. In a world determined to shut them up, knock them down, and set them on a cookie cutter life path, Frances and Aled struggle to find their voices over the course of one life-changing year. Will they have the courage to show everyone who they really are? Or will they be met with radio silence?
11. SEVEN DAYS OF YOU by Cecilia Vinesse
Sophia has seven days left in Tokyo before she moves back to the States. Seven days to say good-bye to the electric city, her wild best friend, and the boy she's harbored a semi-secret crush on for years. Seven perfect days…until Jamie Foster-Collins moves back to Japan and ruins everything.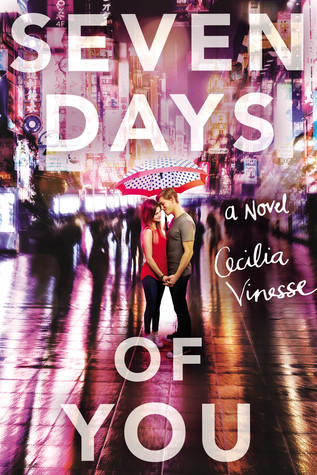 12. UNFILTERED by Lily Collins
In this groundbreaking debut essay collection, featuring never-before-seen photos, actress Lily Collins―star of Mortal Instruments and Rules Don't Apply―is opening a poignant, honest conversation about the things young women struggle with: body image, self-confidence, relationships, family, dating and so much more.
13. GOODBYE DAYS by Jeff Zetner
Can a text message destroy your life? Carver Briggs never thought a simple text would cause a fatal crash, killing his three best friends, Mars, Eli, and Blake. Now Carver can't stop blaming himself for the accident and even worse, there could be a criminal investigation into the deaths. Then Blake's grandmother asks Carver to remember her grandson with a 'goodbye day' together. Carver has his misgivings, but he starts to help the families of his lost friends grieve with their own memorial days, along with Eli's bereaved girlfriend Jesmyn.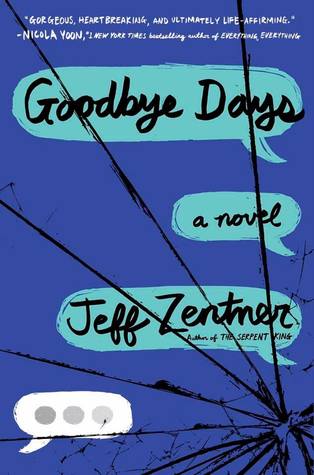 14. THE HEARTBEATS OF WING JONES by Katherine Webber
Wing Jones has worshipped her older brother, Marcus, for as long as she can remember. Until the night everything changes when Marcus, drunk at the wheel after a party, kills two people and barely survives himself. With Marcus now in a coma, Wing is crushed, confused, and angry. Every night, unable to sleep, Wing finds herself sneaking out to go to the school's empty track. When Aaron, Marcus's best friend, sees her running one night, he recognizes that her speed, skill, and agility could get her spot on the track team. Wing can't pass up the opportunity to train with her longtime crush and to help her struggling family, but can she handle being thrust out of Marcus's shadow and into the spotlight?
15. WONDERFUL FEELS LIKE THIS by Sara Lövestam
For Steffi, going to school every day is an exercise in survival. She's never fit in with any of the other groups at school, and she's viciously teased by the other girls in her class. The only way she can escape is through her music—especially jazz music. When Steffi hears her favorite jazz song playing through an open window of a retirement home on her walk home from school, she decides to go in and introduce herself. The old man playing her favorite song is Alvar. When Alvar was a teenager in World War II-era Sweden, he dreamt of being in a real jazz band. Then and now, Alvar's escape is music—especially jazz music. Through their unconventional but powerful friendship, Steffi realizes that she won't always be lonely in her small town. She can go to the music school in Stockholm. She can be a real musician. And she can be a jitterbug, just like Alvar.
16. NEMESIS by Brendan Reichs
It's been happening since Min was eight. Every two years, on her birthday, a strange man finds her and murders her in cold blood. But hours later, she wakes up in a clearing just outside her tiny Idaho hometown—alone, unhurt, and with all evidence of the horrifying crime erased. Across the valley, Noah just wants to be like everyone else. But he's not. Nightmares of murder and death plague him, though he does his best to hide the signs. But when the world around him begins to spiral toward panic and destruction, Noah discovers that people have been lying to him his whole life. Everything changes in an eye blink. For the planet has a bigger problem. The Anvil, an enormous asteroid threatening all life on Earth, leaves little room for two troubled teens.
17. THE GREAT PURSUIT by Wendy Higgins
In The Great Pursuit, the dramatic sequel to the New York Times bestselling The Great Hunt, Wendy Higgins delivers another thrilling fantasy filled with dangerous enemies, political intrigue, searing romance, and a princess who is willing to do everything to protect her kingdom.  
18. 100 HOURS by Rachel Vincent
In this sexy, pulse-pounding new duology by New York Times bestselling author Rachel Vincent, a decadent spring break beach getaway becomes a terrifying survival story when six Miami teens are kidnapped.
Check out these other *epic* YA books coming out in March!