Are you ready to fill your bookshelves even further? No shame if you have to start stacking books on the floor, or piling them on top, or just… buy a new shelf. There are so many good books! Whether it's a series you've been counting down the return to or a new world you're ready to get lost in, there's something for everyone on this list. And by that I mean… I will be getting everything.
So scroll on down and see what will be on my shelves next month!
Leah on the Offbeat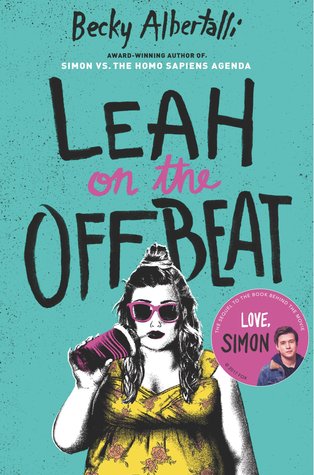 Leah Burke—girl-band drummer, master of deadpan, and Simon Spier's best friend from the award-winning Simon vs. the Homo Sapiens Agenda—takes center stage in this novel of first love and senior-year angst.
When it comes to drumming, Leah Burke is usually on beat—but real life isn't always so rhythmic. An anomaly in her friend group, she's the only child of a young, single mom, and her life is decidedly less privileged. She loves to draw but is too self-conscious to show it. And even though her mom knows she's bisexual, she hasn't mustered the courage to tell her friends—not even her openly gay BFF, Simon.
So Leah really doesn't know what to do when her rock-solid friend group starts to fracture in unexpected ways. With prom and college on the horizon, tensions are running high. It's hard for Leah to strike the right note while the people she loves are fighting—especially when she realizes she might love one of them more than she ever intended.
The Fates Divide
Fate brought them together. Now it will divide them.
The lives of Cyra Noavek and Akos Kereseth are ruled by their fates, spoken by the oracles at their births. The fates, once determined, are inescapable.
Akos is in love with Cyra, in spite of his fate: He will die in service to Cyra's family. And when Cyra's father, Lazmet Noavek—a soulless tyrant, thought to be dead—reclaims the Shotet throne, Akos believes his end is closer than ever.
As Lazmet ignites a barbaric war, Cyra and Akos are desperate to stop him at any cost. For Cyra, that could mean taking the life of the man who may—or may not—be her father. For Akos, it could mean giving his own. In a stunning twist, the two will discover how fate defines their lives in ways most unexpected.
Ash Princess
Theodosia was six when her country was invaded and her mother, the Queen of Flame and Fury, was murdered before her eyes. Ten years later, Theo has learned to survive under the relentless abuse of the Kaiser and his court as the ridiculed "Ash Princess." Pretending to be empty-headed and naive when she's not enduring brutal whippings, she pushes down all other thoughts but one: Keep the Kaiser happy and he will keep you safe.
When the Kaiser forces her to execute her last hope of rescue, Theo can't keep her feelings and memories pushed down any longer. She vows revenge, throwing herself into a plot to seduce and murder the Kaiser's warrior son with the help of a group of magically gifted and volatile rebels. But Theo doesn't expect to develop feelings for the Prinz. Or for her rebel allies to challenge her friendship with the one person who's been kind to her throughout the last hopeless decade: her heart's sister, Cress.
Cornered into impossible choices and unable to trust even those who are on her side, Theo will have to decide how far she's willing to go to save her people and how much of herself she's willing to sacrifice to become queen.
Stormcaster
Vagabond seafarer Evan Strangward can move the ocean and the wind, but his magical abilities seem paltry in comparison to Empress Celestine's. As Celestine's bloodsworn armies grow, Evan travels to the Fells to warn the queendom of her imminent invasion. If he can't convince the Gray Wolf queen to take a stand, he knows that the Seven Realms will fall. Among the dead will be the one person Evan can't stand to lose.
Meanwhile, the queen's formidable daughter, Princess Alyssa ana'Raisa, is already a prisoner aboard the empress's ship. Lyss may be the last remaining hope of bringing down the empress from within her own tightly controlled territory.
Winter Glass
Princess Aurora, torn from the dream world, plots to assassinate the faerie queen Malfleur, only to confront temptations she never expected. Isabelle, meanwhile, opens her heart to Prince William as they attempt to unite their kingdoms and wage war against Malfleur's army. But when the appearance of an unbreakable glass slipper prompts Isabelle to discover more about her lineage, her true identity begins to take shape and her legacy becomes as clear as ice.
Devoted half-sisters Isabelle and Aurora will grapple with their understanding of love and loyalty as they face a threat even greater than that of the evil queen—the threat of losing each other forever.
Defy the Worlds
An outcast from her home—Shunned after a trip through the galaxy with Abel, the most advanced cybernetic man ever created, Noemi Vidal dreams of traveling through the stars one more time. And when a deadly plague arrives on Genesis, Noemi gets her chance. As the only soldier to have ever left the planet, it will be up to her to save its people…if only she wasn't flying straight into a trap.
A fugitive from his fate—On the run to avoid his depraved creator's clutches, Abel believes he's said good-bye to Noemi for the last time. After all, the entire universe stands between them…or so he thinks. When word reaches him of Noemi's capture by the very person he's trying to escape, Abel knows he must go to her, no matter the cost.
But capturing Noemi was only part of Burton Mansfield's master plan. In a race against time, Abel and Noemi will come together once more to discover a secret that could save the known worlds, or destroy them all.
Given to the Earth
Although she was born to save the kingdom by sacrificing herself to the rising sea, Khosa's marriage to King Vincent has redeemed her. As the Queen of Stille, she's untouchable. But being Queen hasn't stopped her heart from longing for the King's stepbrother, Donil. And it hasn't stopped her body from longing for the sea itself, which still calls for her.
While Khosa is made to choose between loyalty and love, Dara is on a mission for vengeance. Years ago, the Pietra slaughtered the entire Indiri race, leaving only Dara and her twin, Donil, alive. Now, spurned by King Vincent, Dara has embarked on a mission to spill the blood of Pietra's leader, Witt, and will stop at nothing to show his people the wrath of the last Indiri.
As the waves crash ever closer to Stille, secrets are revealed, hearts are won and lost, and allegiances change like the shifting sand.
 Ozland
With Everland and Umberland both destroyed, the survivors have taken refuge in a small village tucked within the shadows of the Bloodred Queen's castle. Doc has found an actual cure for the Horologia virus, while Gwen, Pete, and Alyssa begin plotting the assassination of the queen with the help of Gail, an excellent huntress. But killing the queen won't be enough. The world has been destroyed and its needs a ruler to set things right again. A ruler who is good, kind, and fair. Someone like the former king of Germany. But he's dead … or is he?
There's a rumor that the king has been hidden away in a secret land, where only the worthiest can find him. Desperate to end the war, a plan is hatched that could put everything right again, only before it's set in motion, the village is burned to the ground, all survivors taken prisoner to the castle. Except Gail.
But is one girl enough to find a long-dead king, kill the wicked queen, and save the world?
PLUS, WE GET MORE OF THE TWISTED FENNBIRN WORLD!
 👑👑👑
Get a glimpse of triplet queens Mirabella, Arsinoe, and Katharine during a short period of time when they protected and loved one another. From birth until their claiming ceremonies, this is the story of the three sisters' lives…before they were at stake.
Everyone knows the legend of Elsabet, the Oracle Queen. The one who went mad. The one who orchestrated a senseless, horrific slaying of three entire houses. But what really happened? Discover the true story behind the queen who could foresee the future… just not her own downfall.